One of the most important and most satisfying operations when it comes to boat maintenance is certainly its polishing.
If the hull has any residual encrustations, it must be finished with the appropriate abrasive paste.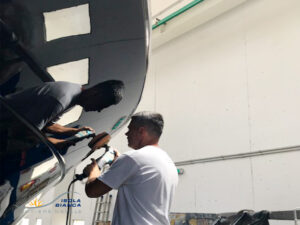 The polish can be passed by hand, with special cloths or body shop gloves, or with the help of sanders. Once polished, it is good to apply a new layer of wax: to have a truly shiny hull!
FOR MORE INFORMATION CONTACT US AT info@isolabianca.it | +39.0789.21018 OR FILL IN THE FORM: